If you have decided that you want to pursue your university studies in the USA, then you are probably full of questions regarding degrees and majors. Well, you are not alone. So, let me tell you a little more about the U.S. higher education system and admissions process.
1. COLLEGE vs. UNIVERSITY
Colleges and universities are essentially the same thing. The main difference is that college refers to an institute of higher education that offers a 4-year degree (Bachelor degrees) while universities also offer graduate degrees including Master degrees and PhDs. Colleges also refer to Community Colleges, which only offer 2-year degrees (Associate degrees) and allow students to take general courses before transferring to 4-year colleges and universities.
2. BACHELOR, MASTER, PhD…
Bachelor degrees are 4-year degrees that focus on one or two academic fields. Bachelor degrees are usually divided into two groups: Bachelor of Arts (B.A.) and Bachelor of Science (B.S.). Bachelor of Arts degrees usually focus on liberal arts and humanities fields while Bachelor of Science degrees concentrate on science, engineering, technology and business fields. In order to obtain a bachelor's degree, you must choose a major. A major is the academic field that you have chosen to study. For example: English, Electrical Engineering, Finance, Biology, Psychology, Philosophy, International Relations, etc. Some universities also require you to choose a minor. A minor is an optional academic field you can study in addition to your major. A minor should not require as much time or effort as your major, and it usually requires just a few courses.
One of the major differences between the U.S. higher education system and education systems from other countries is that students in the U.S. must take a variety of courses in addition to their major courses. Most students will need to study English, Mathematics, Science, Social Studies and Humanities regardless of their major and minor. For example, Business majors must take English Literature or Art Appreciation as part of their general requirements in addition to their business courses, just as English majors must take Algebra and Biology as part of their requirements. This allows you to be a richer and well-rounded individual ready to give your input in a variety of subjects.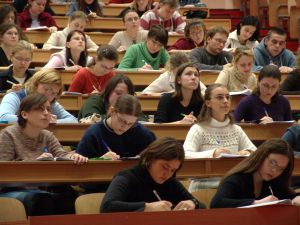 Master degrees are graduate degrees, which last 2 or more years, where you can further concentrate and specialize in the field of your choice. You can specialize in a different field than the one you focused on during your undergraduate education. Several students change their minds about their careers after graduating from college and go on to get master degrees in the field of their choice. In fact, many liberal arts graduates choose to go for an MBA after a couple of years of experience in the corporate world, while some science graduates choose to go for master degrees in education after acquiring a passion for the education world. Master degrees not only allow you to switch careers, they also give you several advantages including more field expertise, a wider professional network, credibility and better and more job opportunities.
PhD and doctorate degrees prepare students for careers in research and academia. In other words, these degrees basically focus on preparing university professors and professional researchers. Research and publications are the main goals of this field, and students must be prepared to dedicate many hours to a specific area of research. PhD programs can last an average of 4 to 7 years. Students usually attend classes for the first couple of years and focus on preparing their dissertation for the remaining years. A master's degree is not a requirement for the PhD, but many universities prefer students who have completed graduate studies in their field. Medical Doctor (M.D.) and Juris Doctor (J.D.) are professional degrees for students interested in becoming doctors and lawyers respectively. Application requirements for these degrees include a bachelor's degree and an entrance exam – MCAT for medical school and LSAT for law school.
3. ADMISSIONS REQUIREMENTS
Bachelor Degrees: Admission to a B.S. or B.A. program requires that you have a High School degree or its equivalent. Most universities also require SAT or ACT scores. International Students who come from non-English speaking countries must also take the TOEFL exam.
Master Degrees: Admission to a M.S. or M.A. program requires that you have a bachelor's degree or its equivalent. Depending on the program, you will also need to take the GRE or GMAT exam – for MBA and Business school applicants. TOEFL scores will be required from international students who come from non-English speaking countries. Note that some universities will waive the TOEFL requirement for applicants who already have a U.S. Bachelor's degree.
PhD and Doctorate Degrees: Most PhD programs require that you have a bachelor's degree, however preference will be given to students with previous graduate work. GRE or GMAT test scores will also be required. TOEFL scores will be required from international students who come from non-English speaking countries. Note that some universities will waive the TOEFL requirement for applicants who already have a U.S. Bachelor's degree.
4. FINAL COMMENTS
Some schools offer joint bachelor and master degrees where students can take an extra year (5th year) of classes and graduate with a B.S./M.S. degree. Many universities also offer joint graduate degrees such as MBA/M.S., MBA/J.D., J.D./PhD or M.D./PhD degrees. Admission requirements vary from university to university, so it is important that you contact the admissions office to verify what the exact requirements may be for a particular academic program.
Denisse I. Romero
MacQuil.com