"In every walk with nature, one receives far more than he seeks." This beautiful quote from John Muir, a mountaineer who is well known for his conservation efforts, perfectly sums up the enchanting experience of wandering along the world's endless hiking trails.
Hikes of all descriptions reconnect us with nature and boost our mood, health, and well-being.
And the most impressive hiking trails offer the chance to gaze upon ethereal scenery that is otherwise limited to photographs.
From climbing majestic mountains and breathing in panoramic views to exploring rugged coastlines and discovering hidden coves, there's no better way to see the natural beauty of our world.
Whether you're seeking a thrilling adventure to test your endurance, or a more gentle expedition to soothe your soul, we have rounded up three amazing hiking trails for you to add to your bucket list.
The Routeburn Track, New Zealand
The unspoiled scenery of New Zealand is no secret, and the Routeburn Track hiking trail is the perfect way to immerse yourself in it.
Teeming with natural beauty, the trail begins by winding through the lush meadows that surround the Routeburn River. The dramatic typography of this region has been shaped over the centuries by glaciers, fjords, and its many waterways.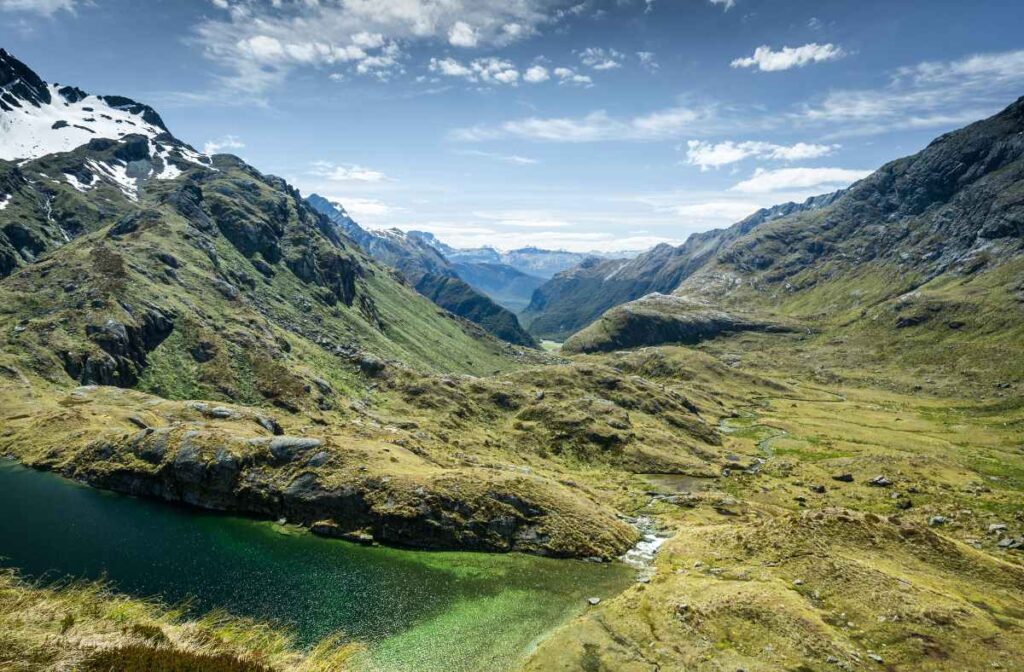 With towering snow-capped mountains and dense native forests as your backdrop, the trail takes you across vast valleys filled with azure rivers and glistening lakes.
And as you continue to climb to a peak of 1,255 meters above sea level, you're rewarded with incredible panoramic views reserved for the most intrepid of explorers.
The Routeburn Track passes through both the Mount Aspiring National Park and the Fiordland National Park. Here you can discover hidden waterfalls and spot a diverse array of birdlife flitting in and out of the surrounding forests.
In the interest of preserving the native wildlife and terrain, numbers for the Routeburn Track are limited, so be sure to book ahead. Due to the somewhat unpredictable weather patterns here, it's also wise to pack for all eventualities.
The summer season in New Zealand is known as "The Great Walks Season", as this is when the trails are safest to undertake. So, unless you're a very experienced mountaineer, you should avoid attempting this trail in the winter months due to the risk of avalanches.
You may also like: How to Explore London on a Shoestring Budget
The Lost City, Colombia
This captivating journey through thick jungles, across misty mountain peaks, and past ancient volcanoes is a hike bursting with mystical, historical value.
The Lost City Trek is an Indiana Jones-esque adventure that brings you to a unique architectural site called Ciudad Perdida. The Lost City is an intricate ancient city that was mysteriously abandoned thousands of years ago.
Tiled roads, engraved stone artwork, and dedicated sacrificial sites take you back to approximately 800 AD when the Tyrana people lived amidst the wilderness.
En route to the ruins, you'll pass through the world's second-largest biodiversity ecosystem, the biosphere of the Sierra Nevada de Santa Marta.
This UNESCO-protected site is home to many rare species of birds and amphibians, plus many endemic butterflies and toads. Hiding in the jungle are also wild howler monkeys, jaguars, and tapirs.
The rich, indigenous environment is also home to the descendants of the Tyrana people, who now maintain the sacred Lost City after its rediscovery in 1972.
For those seeking a cultural and historical hike unparalleled by any other on Earth, the hike to Ciudad Perdida is for you.
You may also like: 10 Amazing Places to Visit in Madrid on a Budget
Caminho da Costa, Portugal and Spain
If you are longing for the blissful tranquillity of a coastal hike, consider Caminho da Costa.
Also known as the "Camino Portuguese Coastal Route", this route usually starts in Lisbon or Porto and follows the path all the way to Santiago de Compostela in Galicia, Spain.
As a more rural alternative to the popular Camino Fraces, the central route, this hike follows a peaceful path along the rugged coastline of northern Portugal and Galicia.
With views of the endless North Atlantic Ocean lapping at the undulating headlands – and a fine selection of sandy beaches along the way – the Caminho de Costa trail is sure to rejuvenate your heart and soul.
While the total length of the trail is just over 800 km long, hiking any section of the path offers plenty of opportunities to indulge in the authentic coastal way of life.
After all, this is a hike best enjoyed at a slower pace. Be sure to rest frequently on the shore, and stop to taste freshly caught seafood and sun-drenched wine as you pass through the many quaint fishing villages.
You may also like: How to Spend 4 Unforgettable Days in Lisbon
Plan your next adventure
With these and so many more amazing hiking trails waiting for you across the globe, it's time to start planning.
Be sure to book any guided tours ahead of time, and plan your accommodation in advance to avoid any disappointments.
With a carefully researched itinerary, you're sure to reap many benefits from your adventures through these wondrous landscapes.